Considering launching an affiliate program for your store? Both GoAffPro and Affiliatly offer effective affiliate marketing solutions for stores. They offer various options to store merchants for setting up and customising their affiliate programs.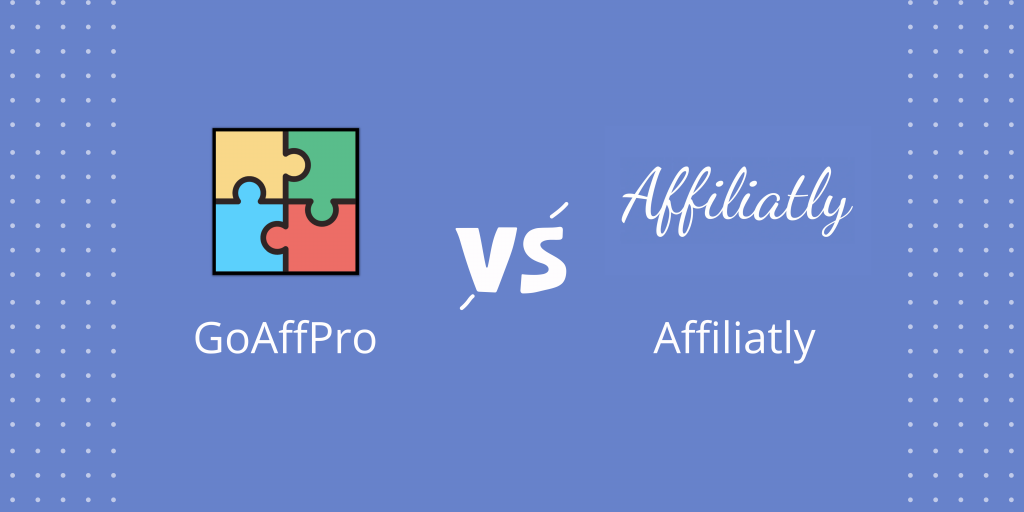 In this comparison, we examine how GoAffPro and Affiliatly stack up:
Pricing Plans
GoAffPro is more affordable than Affiliatly. It also offers a free tier to merchants that helps new and small stores get started with their affiliate programs. The premium plan is priced at $24/month and comes with all the premium features. Also, GoAffPro offers unlimited affiliates in both the free and premium plans. Additionally, there are no restrictions on the number of sales or conversions.
Affiliatly offers multiple pricing plans starting at $16/month and going up to plans priced at $129/month. They do not offer a free tier for merchants. Also, while there is no restriction on sales or visitors in their plans, there are restrictions on the number of active affiliates that can be part of the merchant's program. The lowest-priced tier gives the option of having just 50 active affiliates, with only their highest-priced $129/month plan offering unlimited affiliates.
Furthermore, GoAffPro has over 1550+ reviews on the Shopify app store, whereas Affiliatly only has about 100+ reviews. It makes GoAffPro rated significantly higher in comparison to Affiliatly.
Supported Platforms
GoAffPro and Affiliatly offer support for multiple ecommerce platforms. They both also offer custom store integration options.
GoAffPro supports platforms like Shopify, BigCommerce, WooCommerce, Wix, Magento, PrestaShop, Ecwid, Squarespace, Webflow, Weebly, CommerceHQ, and ShopWired. Whereas, Affiliatly supports Shopify, BigCommerce, WooCommerce, Squarespace, Ecwid, Storeden, and HikaShop.
It is, therefore, clear that GoAffPro supports more platforms than Affiliatly, giving merchants more flexibility while choosing an e-commerce platform for their store.
Checkout more comparisons:
Affiliate Marketing Features
Both GoAffPro and Affiliatly offer basic affiliate marketing features. They provide options to set up different types of commissions in the program, such as affiliate commissions, product commissions, etc. However, GoAffPro goes further by offering royalty and recurring commission options.
Also, while both offer the option to set up a multi-level affiliate network, Affiliatly only offers a two-level network. With GoAffPro, merchants can set up to 20 levels in their multi-level network. Additionally, both provide the option to set up a tiered commission structure in their programs.
However, GoAffPro takes the lead here by offering many more functions for rewarding affiliates, such as target bonus, recurring bonus, signup bonus, and more. It also provides commission modifiers for adjusting affiliate commissions on different rules. The absence of these options from Affiliatly makes GoAffPro a more feature-rich offering.
Program Customization
Both apps offer various program customization options to merchants. However, the level of customization offered is different.
GoAffPro offers options for customising the affiliate portal's landing page, signup page, and affiliate dashboard. It provides options such as setting up a custom name for the affiliate portal, enabling tabs such as advanced analytics, mini-store, and more in the affiliate dashboard. Additionally, merchants can create new pages and add widgets to the dashboard. GoAffPro also offers a referral link shortening option with Bitly or Shopify.
Most of these options are missing from Affiliatly, which only offers limited customization for the landing page and adding a leaderboard in the affiliate dashboard. These give an edge to GoAffPro, as it gives significantly more options to merchants for customising their affiliate program.
Affiliate Management
Affiliate Management is an integral aspect of an affiliate program. Both GoAffPro and Affiliatly offer various options to merchants for managing their affiliate programs.
Both apps offer the option to make commission payments to affiliates from within the app using PayPal. However, GoAffPro also provides the function for generating invoices for commission payments to affiliates. Additionally, while both apps offer affiliate email notifications, GoAffPro lets merchants set up email marketing campaigns for affiliates.
GoAffPro also offers the affiliate groups option, which allows merchants to set up different affiliate groups with independent commission structures. It also provides additional customizations such as setting up multi-level networks for groups, party links, linking signup pages, or membership plans with groups. It makes it a powerful tool for affiliate management for merchants.
Finally, it is clear that GoAffPro offers many more options to merchants for setting up their affiliate program and with a greater degree of customization. It provides a more cost-effective solution than Affiliatly, making it a better offering.