Are you looking for an affiliate marketing solution for your store? Both GoAffPro and Refersion provide affiliate marketing solutions for stores. They offer various features and options to merchants for setting up and customizing their affiliate programs.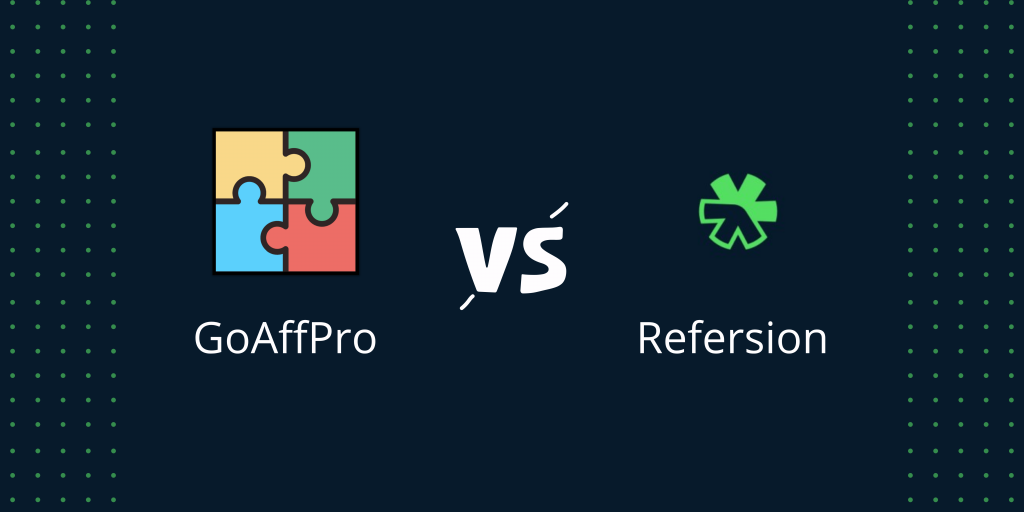 Here we take a look at how GoAffPro and Refersion compare to each other:
Pricing Plans
GoAffPro is much more affordable and also offers a free tier. The free plan especially helps small or new businesses to get started with their affiliate program. There is also a premium plan ($24/month) that includes various premium features.
In the case of Refersion, they offer only a single plan that costs $99/month. It is harder for small or new businesses to shell out such a large sum, especially when their programs are small.
In both of the plans offered by GoAffPro, merchants get an unlimited number of affiliates, and there are no monthly restrictions on the number of orders or conversions. While Refersion offers unlimited affiliates, it does restrict the number of orders to 130 orders/month.
Additionally, affiliate portal customization, such as dashboard customization, and signup page customization, are offered in GoAffPro's premium plan. Refersion offers such customization options only on their Enterprise plans.
Supported Platforms
Both GoAffPro and Refersion are available for use on multiple e-commerce platforms. Additionally, they also offer custom integration with other platforms.
GoAffPro supports platforms like Shopify, BigCommerce, WooCommerce, Wix, Magento, PrestaShop, Ecwid, Squarespace, Webflow, Weebly, CommerceHQ, and ShopWired. Refersion supports platforms like Shopify, BigCommerce, WooCommerce, Magento, Chargebee, Salesforce Commerce Cloud, and Stripe.
It is evident from the list of supported platforms that GoAffPro supports more platforms than Refersion, giving merchants more options in choosing their e-commerce platform for building their stores.
Checkout more comparisons:
Affiliate Marketing Features
While both GoAffPro and Refersion offer basic affiliate marketing options to merchants, there are various differences in the affiliate marketing features offered by both apps.
GoAffPro offers multi-level affiliate network options, customer-affiliate connections for recurring/lifetime commissions, and rewards for affiliates like target bonuses and commission boosters. Additionally, it provides PayPal Payouts integration for in-app payments to affiliates and automatic invoices for commission payments. It also offers the option for merchants to create email marketing campaigns.
These features are notably missing from Refersion, severely restricting affiliate program customization for merchants. It makes GoAffPro quite feature-rich and customizable in comparison to Refersion.
Program Customization
Both apps offer customization options for the affiliate portal. Here too, GoAffPro is ahead by offering more customization features to merchants.
GoAffPro offers customization options for the landing page and the signup page of the affiliate portal. Additionally, it provides customization options for the affiliate dashboard like adding new tabs such as advanced analytics, mini-store, and transactions tab in the dashboard. Also, there is the option to add widgets like an order details table, leaderboard, and more in the affiliate dashboard.
All of these options are present in the premium plan offered by GoAffPro. Whereas, Refersion only provides a few of these options in their Enterprise plan.
Affiliate Management
Affiliate management is an essential part of an affiliate program. Management options allow the merchant to handle different types of affiliates in the program.
Both GoAffPro and Refersion offer such affiliate management options. Refersion offers affiliate segmentation based on commissions. However, GoAffPro offers the affiliate groups option allowing merchants to set up different affiliate groups with independent commission structures. These include options such as multi-level commissions, party links, media assets, etc.
Additionally, affiliate groups can be linked with their own signup pages and membership plans. These make the affiliate groups option a powerful tool for merchants to use.
In conclusion, it can be said that GoAffPro offers a higher degree of customization options to merchants for building their affiliate programs. Furthermore, GoAffPro being more affordable makes it a much better offering than Refersion.