If your business is having a hard time recruiting affiliates, it could be because they don't trust your brand. That's why PR strategies are important.
Excellent PR helps increase credibility for your brand and, therefore, your product. In this case, your product is your affiliate program.
In other words, leverage PR and affiliate marketing programs set up by merchants like you become easier to promote.
Here are PR strategies you can follow to attract affiliates to your affiliate program.
1. Use Press Releases
Press releases are great for announcing product launches and other newsworthy events for editorial coverage. As I said, your affiliate program is, in a way, your product here. So, you can also use press releases and leverage the help of larger publishers to generate awareness and attract affiliate marketers to your program.
You can list expert PR services to get your press releases in front of thought leaders and influencers in your industry, and editorial staff.
Just ensure your press releases are well-crafted and appealing so they'll be published in the first place. Here are some tips to help with this:
Make sure the first paragraph of your press release highlights the newsworthy event.
Highlight the benefits of becoming an affiliate.
Distribute your press release to the relevant outlets, and follow up afterward.
See this press release example from Innovation Refunds. The company announced its affiliate program launch. Since the launch of the program is a newsworthy event, it's in the first paragraph of the press release: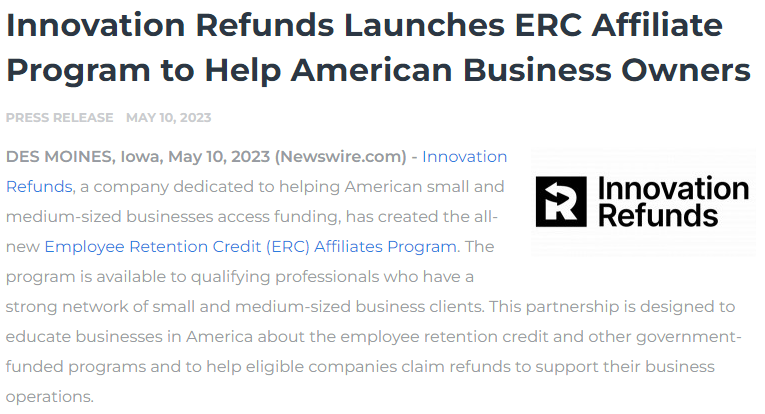 Adding statistics or quotes from industry experts about the effectiveness of your actual products (the affiliate products) can also get affiliates' attention. Affiliates will see your products' potential to generate conversions and a high affiliate commission rate for them.
Once the PR efforts start generating traffic and sales, use affiliate marketing campaign tools like GoAffPro to track affiliate links, monitor each affiliate's commission, and manage recruits.
2. Leverage Webinars
Virtual events are huge opportunity generators for affiliate programs. They allow for good PR and affiliate marketing programs, as a result, become attractive to potential affiliates.
Online events like webinars provide a platform to showcase your affiliate program and the actual products under the program. If you're camera-shy, practice speaking to a camera first.
The webinar should include a question-and-answer session for affiliates to learn more about your affiliate programs. You should also provide free handouts on your products.
Having one or two happy customers talk on your webinar will motivate your affiliate team to sell more products because they believe in your brand. In addition to being social proof, they boost your brand reputation and, therefore, enhance your PR strategy.
Invite current affiliates from your program to speak at the webinar as well. Offer them coupons, free products, and giveaways to motivate them to speak. This will give prospective affiliates a better understanding of what they can expect when marketing your products on their review sites and other platforms.
After you've presented your webinar, repurpose it. It contains a lot of valuable information you can use to enhance your other marketing strategies. Record the webinar, and upload it on your site so that people can view it. You can use this to encourage affiliates to sign up.
3. Utilize Social Media
Social media campaigns are another effective way to leverage PR to boost awareness of your affiliate program. Influencer marketing, in particular, is worth mentioning here.
Establish some basic ground rules upon collaboration with social media influencers. For instance, say you produce handcraft products like weaved rattan mats, or crochet wears. You may instruct the content creator to promote your affiliate program first rather than promote their affiliate code for a specified period of time.
The reason for this is simple: brand ambassadors take on a different type of marketing for brands. If they decide to take on affiliate marketing for your brand (which is possible, by the way), promoting it together with the affiliate program may cause a conflict of interest and prove counterproductive for your business.
Instead, focus on providing all the necessary information and tools to create the type of content that drives awareness for your affiliate program. Share the influencer-generated content on your page to reach a wider target audience.
Ecommerce brands like Amazon excel at this strategy. They have a dedicated Amazon Influencer Program page on Instagram that targets affiliates and influencers looking to make money on Amazon.

The page also showcases other influencers promoting the Amazon affiliate program. It shares information that could inspire new affiliates and improve their revenue streams. For example, the video below explains how affiliates can manage content on their storefront:
Use relevant hashtags to repost the content on your page. Also, promote this content outside social media channels to reach a wider audience and attract new affiliates.
In Closing
Digital PR can help drive awareness for your affiliate marketing program by helping ensure your good reputation in the public's eyes. Ensure good PR and affiliate marketing programs can attract the most well-known affiliates.
You learned PR strategies to follow to boost awareness of your affiliate program.
For the best results, share newsworthy press releases, use webinars, and leverage social media. Follow these tips and you'll reap the best results from your affiliate program PR campaign. Good luck!

Want to build an affiliate program for your store? With GoAffPro, you can easily set up and manage your program. Check out our app: GoAffPro