Regular people – your potential customers – trust influencers increasingly more. These creators can mobilize the masses to support values, brands, and products. And they can do that for your affiliate ecommerce store too.
This article will show you:
The specifics of using influencers for affiliate marketing
7 actionable tactics to leverage content creators
Useful examples you can copy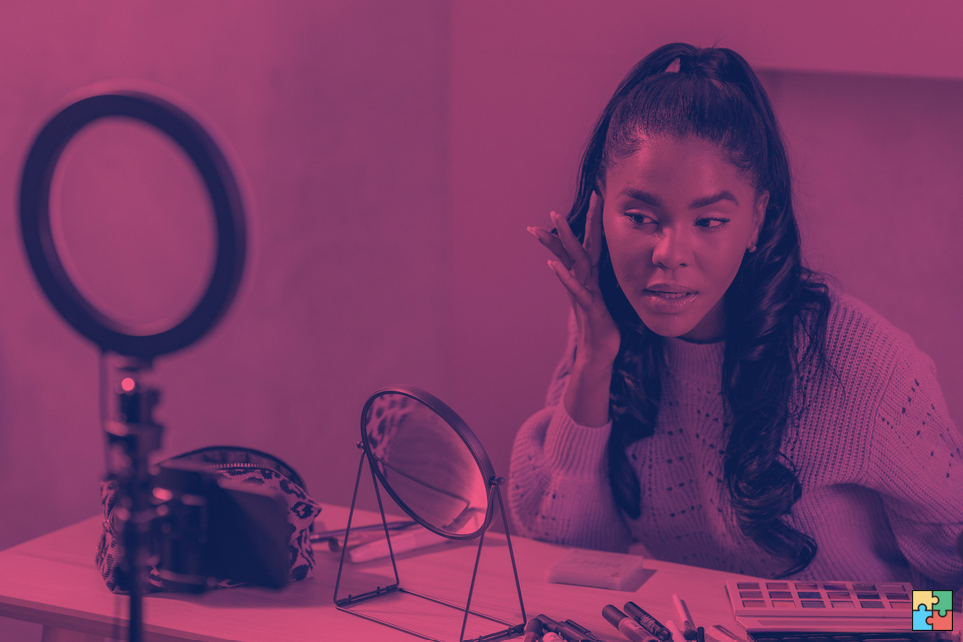 What Makes Influencer Affiliate Marketing Different?
Influencer affiliate marketing is unique because:
Its primary goal is to generate sales.
The typical commission-based payment system is more transparent and helps maximize your budget.
You'll use clear KPIs related to sales to measure your affiliates' performance. That means monitoring your campaign and keeping track of the highest-performing content is easier.
But to generate those sales, your content creators must also talk about your products, creating awareness and engagement for your brand.
So you'll shoot two birds with one stone: You'll connect with your target audience, but you'll do it in a more meaningful and results-driven way.
How to Leverage Influencer Marketing
You can boost your affiliate marketing strategy with different types of influencer content:
1. In-Depth Reviews
In-depth reviews are excellent if you have:
A new, high-tech product with a high learning curve
Products with intricate features or different uses
Expensive products that people think twice before buying
So, find influencers who can explain those product functionalities and mitigate pre-purchase fears. As such, your potential customers will be likelier to buy your products.
Content creators can produce these reviews for:
Their blogs
YouTube
Some social media channels, like Instagram
All these channels have their pros and cons. Written content, including AI writer-generated text, allows your target audience to re-read and compare product features, but video content allows a more practical, hands-on understanding of your product's functionality.
Fern and Petal offer a good example with tier-based commissions and perks. They also feature these ambassadors on their website to create a sense of community: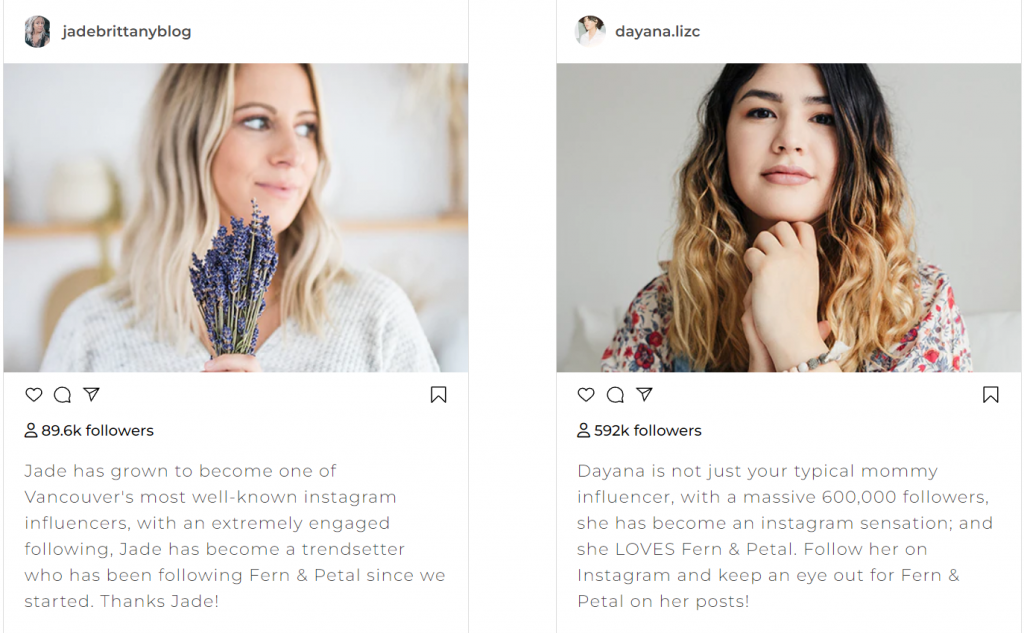 Pro tip: There are plenty of high-quality influencer marketing tools that will help you create an engaged ambassador network to power up your affiliate program.
2. Social Media Shops
Your affiliate influencers can promote your social media shop.
Side note: Yes, you can and should create a social media storefront for your affiliate ecommerce store.
Instagram Shops is a good place to start.
The advantages are:
Your target buyers are a captive audience because they specifically choose to follow your shop or browse Instagram shops. That means you'll target them with persuasive content at the best times.
You tap into the full persuasive power of social media content, from powerful imagery to ASMR and UGC-induced social proof.
Influencers can tag your products or product pages so people can purchase faster.
Here's the founder of Saltair, Iskra Lawrence, becoming her own company's influencer on Instagram Shops: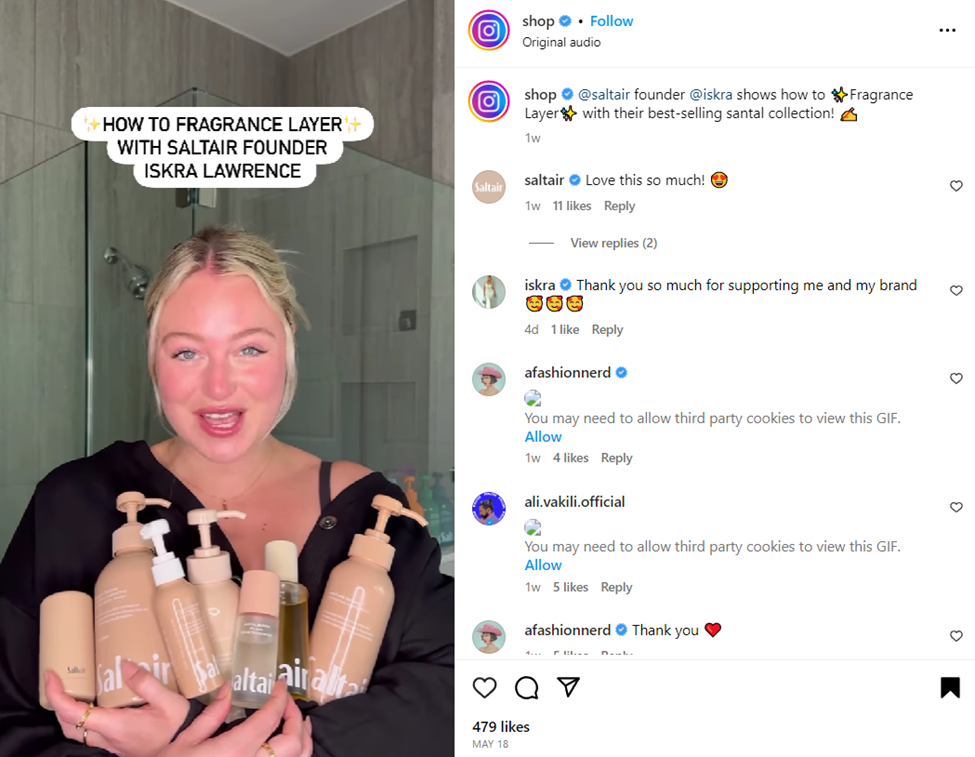 Pro tip: when using Instagram for affiliate marketing, affiliate influencers with over 10K followers can add 'swipe up' onto their stories so it's easier for views to navigate to your store
3. How-to Guides
How-to guides are more practical than reviews. This tactic will help you move potential customers faster through the middle of the sales funnel when they're comparing different products.
Your content creators or influencers will show your audience how to use a specific product from A to Z.
They will have specific insights into innovative product uses. And that will persuade your audience faster.
Pro-aging influencer Denise Boomkens creates the desire for the Whind cream through an easy tutorial, plus a powerful combination of imagery and sound: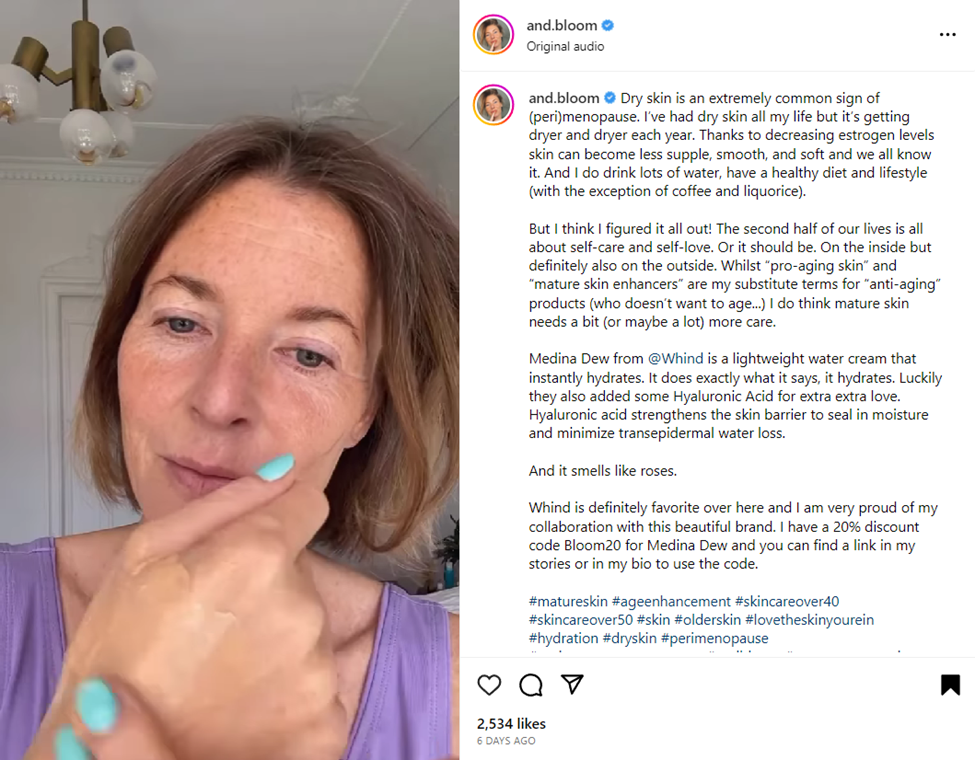 Pro tip: Choose an engaged creator with experience using your product.
4. Contests and Challenges
An exciting challenge or a contest with a neat prize can incentivize your audience to:
Participate and, thus, produce a broad library of user-generated content that you can repurpose on other channels.
Side note: Using UGC in affiliate marketing emails can increase click-through rates considerably.
Promote your brand and products by sharing your challenge.
Pro tip: Remember that you're operating in the context of affiliate influencer marketing, so create a results-driven strategy focused on sales.
5. Posts, Stories, and Reels
Posts, stories, and reels can be scheduled using social media scheduling tools as they are excellent for the top of the sales funnel when you need to create awareness, social proof, and desire.
But they also work well for the bottom of the funnel when you want to create a loyal brand community from your current customers.
Influencers will choose a slew of tactics depending on your marketing goals:
Polished photos to create the desire
Relatable memes to connect with your audience
ASMR to keep people hooked
And more
Gem Welsh uses the value of body positivity that she shares with her audience to promote the Unaltered shorts: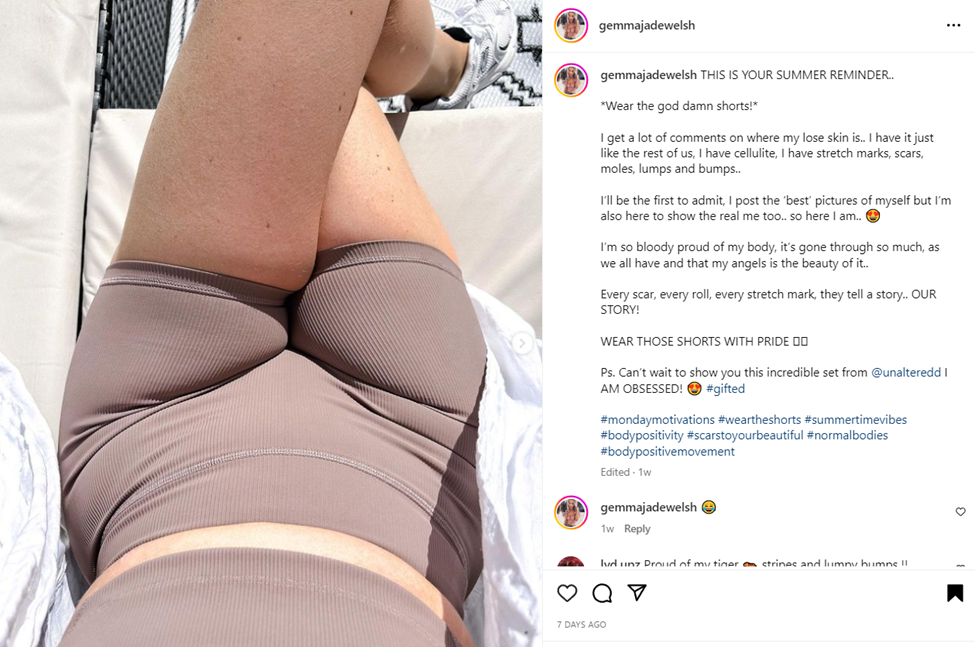 Pro tip: Tagging your product and adding a UTM discount link along with a compelling CTA will considerably boost your sales.
6. Giveaways
Influencer giveaways involve partnering with an influencer and offering your product as a prize.
Typically, participants are asked to follow your brand's profile, comment on a post, or tag a friend.
Remember:
Ensure the prize you offer is relevant to your target audience.
Be clear about the entry rules.
This strategy works well because you can:
Reach a wider audience.
Gain new followers.
Increase engagement rates.
All that helps drive traffic to your website and boost sales.
7. Influencer Ads
Influencer ads are shown to reduce ad fatigue drastically. Besides, influencers can produce raw, relatable content that hooks your audience. That means you're fighting short attention spans, creating desire, and persuading people to buy.
To create a good ad:
Identify your target audience.
Create a solid influencer brief to respond to the audience's pain points.
Find influencers that align with both your brand and audience.
Collaborate with your influencers to create engaging content that showcases your product authentically.
Neom Organics partnered with a niche influencer, sleep specialist Dr. Angela Holliday-Bell, to promote their product in a paid sponsorship ad: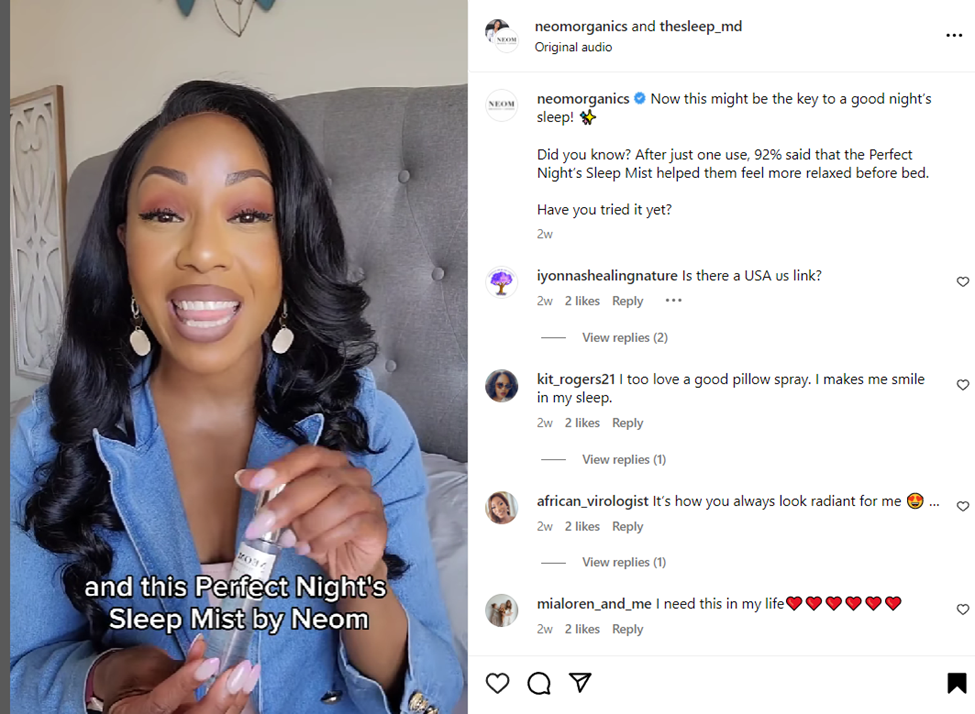 Pro tip: Outsource this task to one of the top paid media agencies out there to achieve the best results from your advertising campaign while staying within your budget.
Wrap Up
Now that you're here, you know how to leverage influencer marketing for your affiliate store.
Remember to:
Partner with engaged influencers that fit your brand's values.
Build a network of ambassadors.
Offer a special promotion or discount code to incentivize followers to purchase.
Review analytics to track your influencer campaign's success and adjust as needed.
Pro tip: Remember that you're operating in the context of affiliate influencer marketing, so create a results-driven strategy focused on sales. Make sure to add a relevant call to action, e.g. to reach out to your business phone system number.
Want to build an affiliate program for your store? With GoAffPro, you can easily set up and manage your program. Check out our app: GoAffPro