YouTube has 2.5 billion active users who consume 1 billion hours of YouTube videos daily. Even a tiny fraction of that market could double your revenue (if you're only doing standard affiliate marketing now).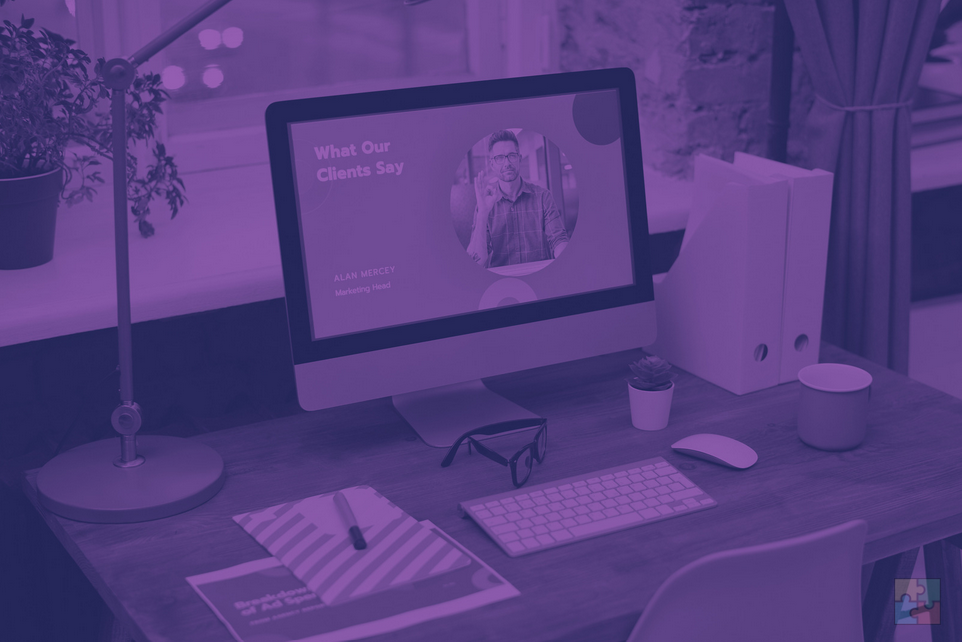 This guide will give you a strategy-first results-driven strategy to ensure that happens. You'll learn:
What makes YouTube affiliate marketing different
5 actionable strategies
Best practices to hone your campaign
What Is YouTube Affiliate Marketing Different?
YouTube affiliate marketing is just regular affiliate marketing on steroids. You'll still promote affiliate links that recommend specific products or services, including them in your video description or content. And you'll earn a commission based on them.
The platform change represents those steroids, allowing you to expand your current affiliate program.
This visual medium is more compelling and engaging.
You can create more desire, explain product features better, and drive people to purchase faster.
The competition is lower (in certain niches).
You get access to a massive potential audience.
55% of shoppers watch YouTube reviews before purchasing.
YouTube videos improve SEO because they rank for Google searches.
Remember: Just like steroid use has to be done carefully to mitigate side effects, so does your YouTube affiliate strategy.
Create engaging videos that build a community.
Invest in good equipment and human resources.
Remember that YouTube has spam policies in place. You can't simply produce a video for the sake of getting traffic to your main website. That video has to be relevant to your target audience.
5 Strategies to Double Your Revenue with YouTube Affiliate Marketing
If the steroid metaphors didn't scare you away, let's jump into the actionable revenue-growing strategies we promised.
1. GIVE MORE TO GET MORE [THE EXPANDED LIST REVIEW]
This YouTube video from the Canadian Prepper has 2,371,415 views at the time of this writing. And it discusses a whopping 50 products.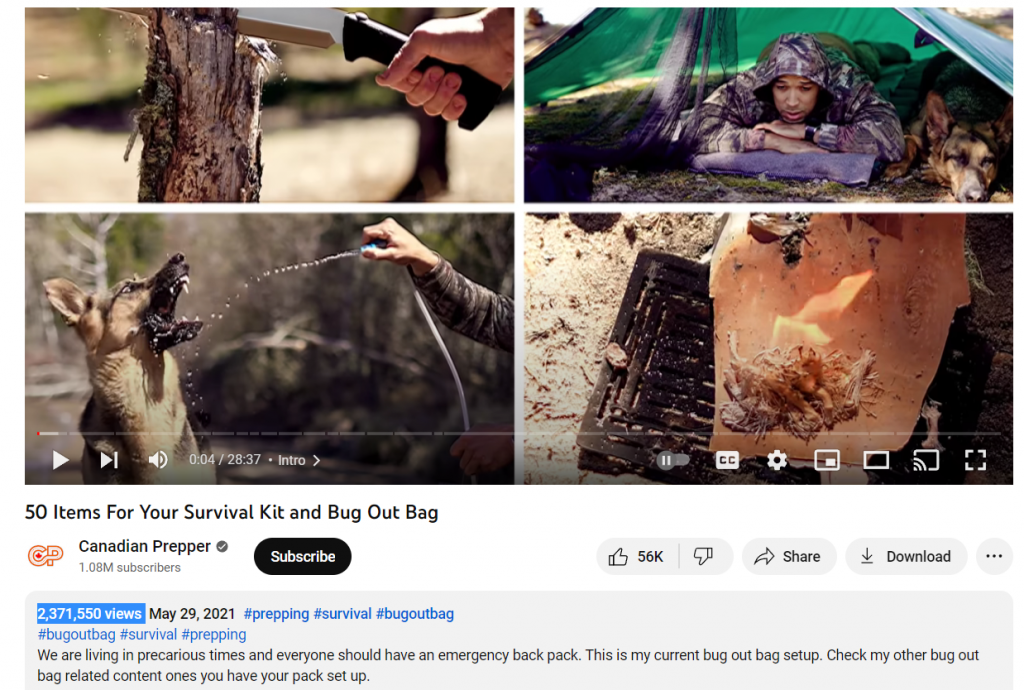 Side note: Some of the most authoritative affiliate marketing sources will tell you to hide your links instead of talking openly about them. We're looking at you, Shopify.
"On YouTube, never explicitly promote the affiliate products. This will come across as disingenuous and inauthentic. You'll end up eroding trust with your audience, and your conversion rate will suffer."

Marc Bromhall, Founder of Beginner Surf Gear
Still, the Canadian Prepper reviews 50 products and gets millions of impressions.
Why does it work?
This nature survival channel has built a reputation during years of creating relevant, exciting content. Their YouTube videos don't just appeal to preppers and survivalists; they're thumb-stopping enough for a broader audience.
Pro tips:
Once you create that extra value for your audience, you can add more products and earn more from affiliate links.
Use the listicle format to discuss those relevant products, adding timestamps to make navigation easier.
2. NICHE DOWN [THE "CHOOSE YOUR POISON" TECHNIQUE]
Richard Fanders is a driving instructor at Conquer Driving in the UK. He's been producing quality content for years to help more people get their driving licenses.
And he's loyal to two affiliate brands, insurance companies Collingwood and Confused. Recently, Richard added a third affiliate to the mix, the Driving Test Success app.
Richard chose his "poison." This strategy earns him a neat commission and offers credibility because Richard isn't always shifting his offer.
Pro tips:
You must create relevant, high-quality YouTube videos to hone that bond of trust.
Establish an effective influencer identification process to locate leading content creators on YouTube, partner with them and thus strengthen your persuasive impact on the audience.
3. CREATE A PRODUCT COMPARISON [AND SCALE YOUR CHANNEL]
Prudent Reviews is a product review YouTube channel. They claim to have helped over 8 million people find the best products to improve their homes. Again, notice the in-depth relevant content they offer.
Although Prudent Reviews discusses different products and offers a myriad of affiliate links, they always do:
Real testing
Thorough product analysis
Product comparison
In the video Cookware Brands You Should NEVER Buy (And Why), they discuss:
5 products that don't work as advertised
5 better alternatives
And they include 7 links to their website content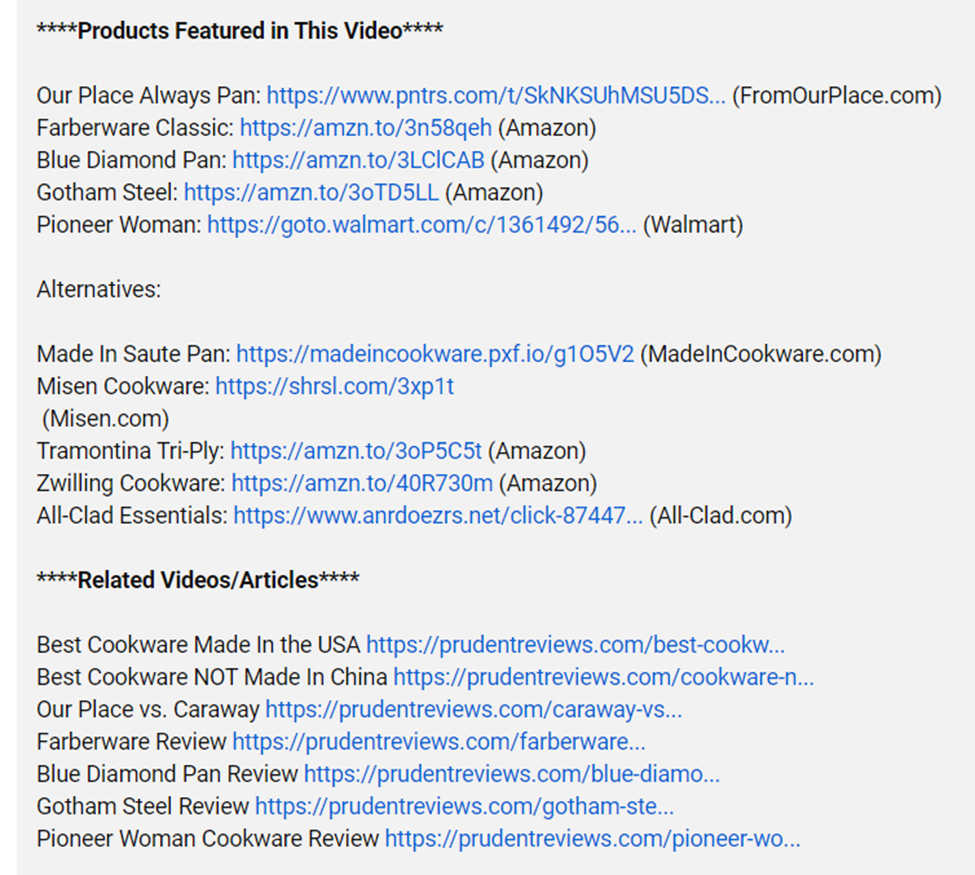 Remember: They can get away with so many links because they offer relevant information.
Note: This comparison format is extremely catchy and allows you to include more links without breaking YouTube's spam policy.
4. TEACH MORE TO EARN MORE [THE TUTORIAL METHOD]
Design with Canva is Ronny and Diana's YouTube channel, where they teach people to use Canva. Like Richard Fanders, they also chose their poison.
The difference is that this channel educates its audience on using the affiliate product comprehensively.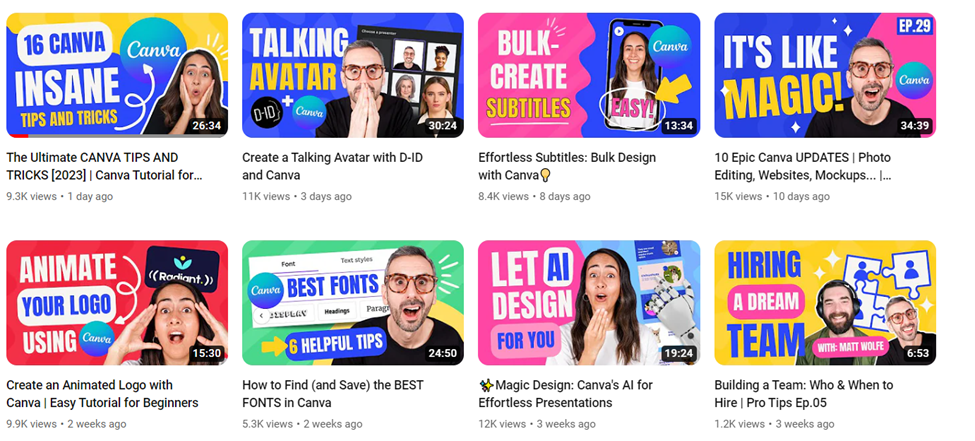 And they feature discount links to Canva, with 15 extra free trial days.
The Tutorial Method will help you whether you're presenting the same niche product or different products.
Educating your audience entails creating desire and trust. You're also becoming their go-to source of information. Those are all key ingredients to increase sales.
Remember: Offer an enticing discount to boost sales even more.
5. CREATE DESIRE [THE UNBOXING TECHNIQUE]
Few formats elicit desire more than the Unboxing Technique. Just look at this video: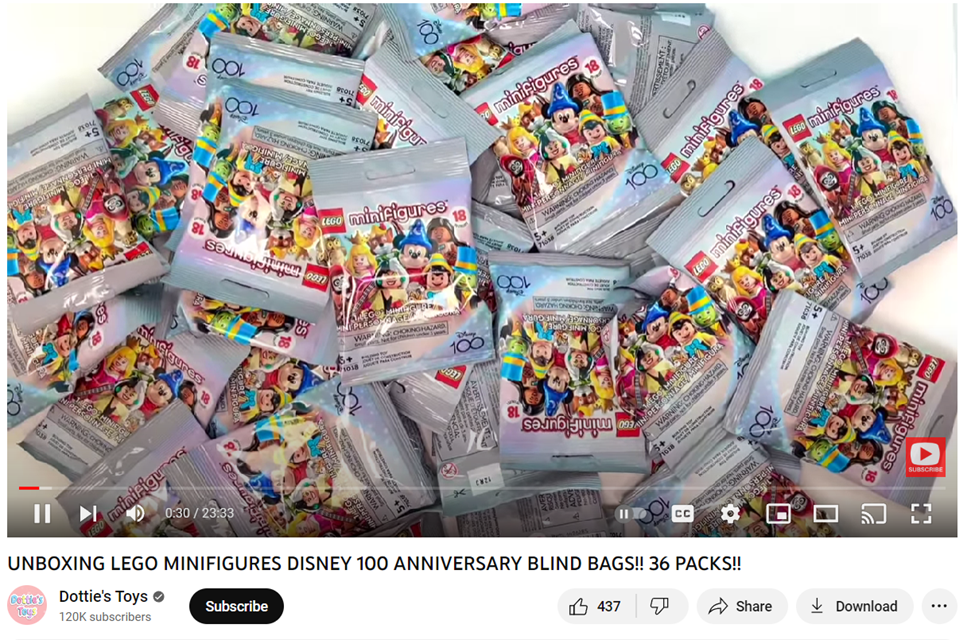 That excitement is built up from the title, and you can see it grow with each new image, sound, and giddy inflection.
Dottie is an excellent source of inspiration because she's an expert at using ASMR, colors, and her voice to create that desire.
Remember: Create an enticing, curiosity-eliciting title to get more views.
Best Practices to Make Your YouTube Campaign More Productive:
Let's summarize the lessons we've learned so far and offer a few extra tips to maximize that revenue:
Offer high-quality, relevant content.
Increase sales through discounts and limited offers.
Create desire through non-verbal cues and specific set-ups.
Build a loyal community around your channel and create trust with your audience.
Use content creators to address niche communities.
To achieve all that, you must also:
Target the right audience.
Use eye-catching titles and thumbnails to increase click-through rates.
Include the right keywords in the titles with the help of Google Trends API according to your customers' search intents.
Optimize your videos with relevant keywords.
Add timestamps and organize your playlists so people can find what they're looking for faster.
Promote your YouTube videos on other social media by creating a social media posting schedule for consistent postings.
Now that you have this winning strategy go forth and conquer your new affiliate platform.
Want to build an affiliate program for your store? With GoAffPro, you can easily set up and manage your program. Check out our app: GoAffPro